Markentry USA Partner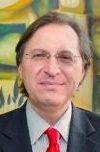 Javier is a lawyer licensed to practice the profession in Massachusetts and New York. He has been practicing for over twenty-seven years and specializes in the areas of immigration, commercial law, corporate law (constitution of legal persons and sale of companies), and real estate law (sale of real estate). In the real estate field, he represents buyers, sellers, and financial institutions in all types of legal structures including purchasing, sales, and property management. English and Spanish are his two mother tongues. Since 1993, when he founded the Pico Law Office in Boston, he has served as its director.
In addition to his practice as a lawyer, Javier is a member of the board of directors of a public electric power company located in Houston, Texas, whose shares are traded on Nasdaq, in addition to having been a member of several other boards of directors, including boards of banks and communities.
In 1983, he graduated from Berklee College of Music with a degree in Sound Recording Engineering, Composition and Electronic Music, and in 1991, he graduated from Boston College Law School with a Juris Doctor degree.